ChemiCloud Reviews 2020 New But Amazing Web Hosting Provider
Have you ever heard of Chemicloud Web Hosting? We are sure the answer is No because it is not as popular as reputed hosting providers like Bluehost and Hostgator. Our Chemicloud reviews will give you a complete idea about this young hosting company.
We did a careful review of ChemiCloud hosting services and the results were surprising. While doing Chemicloud review we found it to be one of the best hosting providers that we have used so far.
ChemiCloud is a rising star among web hosting providers and you won't regret choosing it. Chemicloud is not as popular as SiteGround and A2 Hosting but they are emerging as the best web hosting due to their excellent services.
Check out this blog on Siteground vs Chemicloud review and the results will amaze you. You may also refer our dedicated post on Siteground Reviews.
ChemiCloud Customer Support
Customer support and service is one of our top criteria to judge a quality hosting provider. We are impressed by Chemicloud's support staff's knowledge and quick response time.
ChemiCloud customer support is available for 24×7 to help you. They are reachable via email, phone, and chat. The easiest and fastest way to reach them is via Chat.
You do not have to be a registered user to contact them. Hence we contacted them via Chat for a technical query. We were able to connect with the Support staff in less than 30s. Support staff, Jacob H was able to answer all our questions.
Chemicloud has outstanding customer support and services which makes them a trustworthy and reliable web hosting company.
Visit this link for step by step process to buy Chemicloud web hosting service.
ChemiCloud Reviews Free Services
Everybody likes free services because it saves costs. Chemicloud offers a lot of free services that make them an affordable hosting provider.
We did our research and found some services that are free in Chemicloud. However, we suggest contacting customer support for more information because they do not host illegal content.
Lifetime Free Domain
Chemicloud offers a free lifetime domain in all hosting plans. It means as long as you have an active hosting service with them they will renew your domain for you.
You can choose your free domain name from popular extensions such as .com, .net, .org and many more.
Additionally, you can also create an unlimited number of subdomains under your main domain. Hosting providers like Bluehost does not allow unlimited subdomain in some of their hosting plans.
Free CDN
You will get free CDN with ChemiCloud Hosting. Yes, that's true and I am not talking about free version Cloudflare CDN. You do not have to do anything their hosting comes with free CDN that increases your website performance.
Free Domain Transfer
It is difficult to manage a website if the domain and hosting services are with different providers. Chemicloud offers free domain transfer for every customer. You just have to ask their customer support and they will transfer your domain without any cost.
Most of them charge extra money for domain transfer. Chemicloud free domain transfer services make them unique from other hosting providers.
Free Website Migration
Migrating a website from one hosting provider to another is a complex and lengthy task. Sometimes it can crash your website so severely that you cannot even recover it.
We suggest you leave this task to Chemicloud Expert. Chemicloud technical staff can move your website free of cost with no downtime. You just have to contact customer support and they will move your website to Chemicloud hosting.
Many web hosting companies do not provide free website migration. For example, Siteground takes a one-time charge for this service. Chemicloud's free website migration makes them a cost-effective hosting solution.
Free SSL Certificate
Some web hosting provider like Inmotion does not provide free SSL. Chemicloud offers a free SSL certificate for every plan.
SSL certificate is highly recommended for every website these days. It not only provides a secure connection but also a better search engine ranking.
ChemiCloud Performance Review
The performance or speed of a website is vital for any business. If your website is slow then you are losing revenue. Particularly small websites or businesses can fail even before a start.
Therefore, we have been observing Chemicloud Server Response time and website speed to measure its performance. As per our observation, we highly recommend Chemicloud as your hosting provider.
Chemicloud Server Response Time
Our website techieblogging.com is running on Chemicloud shared hosting. Therefore, we regularly monitor its response time and we always get an amazing result.
Our website has an average server response time of 190ms which is quite higher than 96% percent of websites.
Along with the average response time, we also monitor response time from different countries. We found a pleasing low response time of range between 70ms to 341ms.
Chemicloud Page Loading Speed
It is also important that your website should load as fast as possible. While doing Chemicloud review we use GTMetrix and Google page speed insight to measure the speed.
Usually, you need to optimize the website to get a better page loading speed. However, without any website speed optimization, our page loaded at 2.2s. Hence we can say that Chemicloud shared plans are not only affordable but also fast.
We should always monitor the page loading speed of our website. We frequently update this section to provide the current loading speed of our website.
Currently, we have several blog posts on our website with medium traffic. We have been doing some website speed optimization with the LiteSpeed Cache plugin.
We are happy to inform that we always get page loading speed less than 2.5s. Additionally, we have been maintaining a page speed score of 99% and YSlow Score to 91%.
You can follow our blog on website speed optimization for all essential settings that can skyrocket your website speed.
ChemiCloud Uptime 99.99%
No one likes downtime for the website. It does not matter how fast your website is if it down means the end of the story. Hence we highly recommend using a hosting company that has a high uptime rate.
Chemicloud has an excellent uptime rate of 99.99%. It means your website will be always up for your visitors.
Chemicloud allows you to choose server location nearer to visitors. This provides lower response times and better user experience.
SSD Storage Disk
Chemicloud offers SSD disk storage. SSD disks are fast and reliable in serving data. Using SSD disk storages increases your website loading speed.
Chemicloud Hosting Plans
While doing Chemicloud reviews we were impressed by their hosting plans. Chemicloud offers four types of hosting services Shared Hosting, WordPress Hosting, Reseller Hosting, and VPS Hosting. In comparison to its competitor, all hosting plans are available at an affordable price.
| | | | |
| --- | --- | --- | --- |
| Hosting Plans | Current Price | Regular Price | Monthly Plan |
| Shared Hosting | $3.95 | $7.9 | NO |
| WordPress Hosting | $3.95 | $7.9 | NO |
| Reseller Hosting | $19.9 | $19.9 | YES |
| Cloud VPS Hosting | $59.9 | $59.9 | YES |
Chemicloud offers three shared hostings plans Starter, Pro, and Turbo. All plans have great essential features which are enough for hosting small or large websites.
All shared hosting plan offers a free lifetime domain with 45 days of money back guaranty.
Web Hosting Starter
The starter plan starts at $3.95 per month which allows only one website to host. It includes a lifetime free domain, free SSL, 15 GB of SSD storage and unlimited email accounts.
Web Hosting Pro
The ChemiCloud pro plan includes all features of the Starter plan. You will get many extra benefits to this plan. This plan costs you $6.95 per month. You can host an unlimited number of websites with 25 GB of SSD disk space.
Priority customer support is available in this plan. The pro plan also offers a daily backup and 1 click restore option.
Web Hosting Turbo
The Turbo plan is a little bit costly but it has many premium features. You can host an unlimited number of websites and will get 35 GB of SSD disk space.
The Turbo plan is optimized for speed and reliability. It includes the Turbo boost features that increase your website performance with 3x more server resources.
Advanced caching options like OPcache and Memcached are available to skyrocket website speed.
Chemicloud WordPress Hosting Review
WordPress is a popular content management system and recommended website builder for beginners. Chemicloud offers fully managed WordPress hosting which is pre-optimized for WordPress Site.
You can use shared hosting as well to install WordPress and create a website. However, managed WordPress hosting gives you the best speed and reliability.
We suggest choosing WordPress hosting instead of shared hosting for WordPress sites.
Now WordPress hosting plans are pretty much similar to shared hosting plans. Additionally, you will get faster page times, high security against WordPress-specific threats, automatic WordPress updates and WordPress staging.
ChemiCloud VPS Hosting
Chemicloud has cheap, reliable, and cost-effective shared and WordPress hosting for beginner and small websites. Moreover, it also offers Cloud VPS for hosting large websites.
If you have a website that has 5,000 visitors per day then VPS hosting is best for you. VPS hosting assigns dedicated resources like CPU, RAM, Bandwidth and IP address. Therefore, VPS hosting is more expensive than shared and WordPress Hosting.
Chemicloud VPS Hosting offers four plans Chromium, Iron, Bronze, and Silver. All VPS hosting plans offer a lot of free and basic features that reduce your initial cost.
Free cPanel License.
15 days money back Guarantee.
Free Let's Encrypt SSL.
99.99% uptime guaranty.
A Dedicated IP address.
100% fully managed VPS hosting.
Multiple Server location.
Priority Customer Support.
The chromium plan starts at $59.95 per month. You can get a 10% discount on yearly plans. Chromium plan gives 1 CPU core, 2 GB of RAM, 50GB SSD storage and 2 TB of bandwidth.
The Iron plan starts at $79.95 per month. A flat 10% discount is available if you pay yearly. The iron plan gives 2 CPU core, 4 GB of RAM, 80GB SSD storage and 4 TB of bandwidth.
If you are trying to find a cheaper VPS solution then check out our A2 Hosting Reviews. A2 Hosting VPS plans start at $5 per month.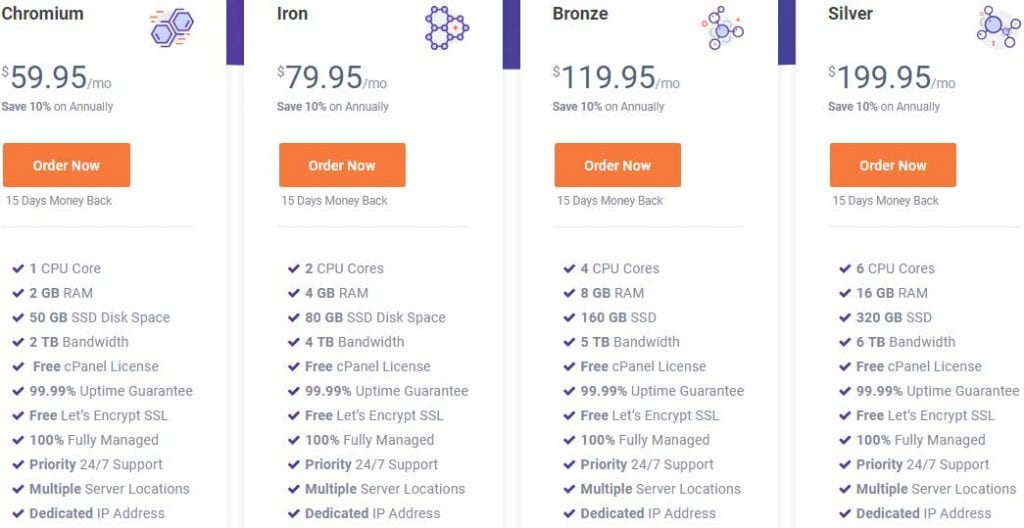 Pros And Cons
Pros Of ChemiCloud Web Hosting Service
Like every web hosting provider, Chemicloud has some pros and cons. These pros and cons can help you to decide if you should buy their services or not.
They are fast, effective and reliable
Cheap and affordable web hosting service
Great Tech Support
Easy to use control panel
45-day money-back guarantee
A Free domain name and website transfer
50% Discount on all services
Cons Of ChemiCloud Web Hosting Service
So far we have never faced any issue with Chemicloud. However, we think below are some points which go against them.
Frequent changes in pricing.
New Hosting Provider.
High Renewal Price.
If you are an existing customer of Chemicloud and facing any issues then give your feedback on the comment section.
ChemiCloud Reviews On Social Media
Lets now see some of the ChemiCloud reviews on the social media platforms.
ChemiCloud Reviews On Facebook
Chemicloud's Facebook page is full of positive reviews. Here are some screenshots.
ChemiCloud Review On Twitter
We have been monitoring tweets about Chemicloud. ChemiCloud users are happy with their excellent service. Below are some positive feedbacks on twitter about them.
ChemiCloud Review On YouTube
YouTube is a great platform to see reviews on web hosting. Below is one of them.
Is ChemiCloud a Good Hosting?
Yes, its an amazing web hosting company. Its new in hosting business but they are offering great hosting service at an affordable hosting price.
Which is better ChemiCloud or BlueHost?
ChemiCloud is better than BlueHost because both has same hosting price and provide similar quality of service but ChemiCloud gives free domain for lifetime.
Is there any ChemiCloud Coupon Code?
They offers 50% on sale discount prices instead of coupon code. In future they may provide coupon code but now they do not have any coupon code.
Verdict: Do We Recommend ChemiCloud?
Absolutely Yes, we highly recommend Chemicloud. If you are a beginner or running a small website you can go with shared hosting. Additionally, the Turbo Plan is more than enough for large websites. Above all VPS hosting is also available for large e-Commerce websites.
In short, Chemicloud is a complete package for a fast, reliable, trustworthy and affordable hosting solution. You can choose them without a second thought and you won't regret choosing them.
Submit Your ChemiCloud Review
Now, we request you to provide your review of Chemicloud. We will review it and publish it if they are genuine. It does not matter good or bad be honest and submit your review.
4.8 out of 5 stars (based on 4 reviews)
This post contains affiliate links. We may get some share if you click the links and purchase products. This helps us to manage this blog.