Some of the links are affiliate links and I earn commission from them. Moreover, as an Amazon Associate, I earn from qualifying purchases.
If you are planning to purchase A2 Hosting services, then our A2 Hosting reviews are for you. Our A2 Hosting reviews will give you a broad idea of this fantastic hosting company.
You will get to know about different hosting plans, prices, and features of A2 Hosting.
A2 Hosting is an ideal hosting solution for building a blog, website, forum, and eCommerce site at an affordable price.
Our A2Hosting review covers various aspects of this hosting platform. Hence its a long but informational blog post. You can expand the table of content and directly jump over to a specific section.
What Is A2 Hosting?
A2 Hosting is a web hosting company offering one of the fastest, reliable, cost-effective, and optimally robust hosting platforms. Speed, reliability, and quality are top on their list of priorities. A2 Hosting servers have quick response time and promising high uptime.
A2Hosting offers all types of hosting plans, including Shared, WordPress, VPS, and Dedicated hosting. All of them are available at a reasonable price with quality services. We will discuss each hosting in detail in the next section. However, below is an overall view of A2 Hosting plans and prices.
A2 Hosting Features
Here comes the part where we discuss the features provided by A2 Hosting. A2 Hosting has many features that attract webmasters, bloggers, and developers. In a short time, they have become the top choice of bloggers and developers.
Developer Friendly Hosting
If you are a web developer, then A2 Hosting is an excellent solution for you. Web Development servers are pretty much famous when it comes to the A2 Hosting services. A2 Hosting supports top programming languages such as Ruby, Perl, Python, and PHP.
You can also opt for unmanaged VPS Hosting, which comes with root access and starts at just $5 per month.
Those who do not know web developing A2 Hosting provides the best drag and drop website builder as well. In addition to WordPress, they have popular CMS like Joomla and Drupal for creating websites and blogs. Above all, for an eCommerce website, they provide Magneto and OpenCart.
Domain Registration
A2 Hosting offers domain registration and domain transfer services. A2 Hosting allows you to create domain names with popular TLD options like .com, .net, and .org. You can transfer your domain name to A2 Hosting from another provider as well.
Free Website Transfer
A2 Hosting offers a free website transfer facility. You can quickly transfer your website to A2 Hosting accounts. They provide quick, easy, and free sites transfer from any hosting providers.
Free SSL Certificates
The secure socket layer (SSL) provides protection and safe communication, which every webmaster needs. So do not miss out on this service given to you by the A2 Hosting services at free of cost. 
Anytime Money Back Guaranty
A2 Hosting offers a unique anytime money-back guaranty. Of course, it is excellent, but let us explain what does this means. Now please note that you will get a full refund within 30 days.
Now suppose you have purchased hosting for three years and used it for one year. After one year, if you ask for a refund instead of the full amount, you will get the amount for the remaining years.
You should also note that the cost of extra services like domain registration is non-refundable. Because no other hosting provider has such a flexible refund policy, A2 Hosting offers an attractive anytime money-back guaranty.
Fast Hosting
The A2 Hosting is one heck of a ride when it comes to speed and quality. They provide real performance when it comes to a hosting solution. Free SSD storage gives a fast response time. In addition to SSD storage availability of data center globally, reduce the page loading speed further.
You will get more resources for your account, lesser customers accessing your server, and faster hosting performance.
Great Customer Support
A2 Hosting customer support is available for 24x7x365. Whenever you visit their home page, you will see the chat option at the top. Once you click on it, a chat window will pop up. You can use this chat window to connect their support staff for any kind of queries or issues.
Moreover, you can also use Phone or email services to contact customer support.
High Performance
The performance of the A2 Hosting services is outstanding and better than 96% of the hosting platform out there. Above all, their optimized turbo server is the one that makes websites 20 times faster than any other hosting platform.
Check out our details blog post on how to increase website speed.
Optimized Security
A2 Hosting offers leading security features that stand out this hosting company from others. Along with a free SSL certificate, it provides DDoS protection and free HackScan to help prevent hacks before they damage your site.
Fast Server Response Time
The swift and turbo account gives you a response of speedy test results with an average of 173ms and the fastest at 6ms. We have found a website that is using the A2 Hosting Swift plan, and the response time is impressive.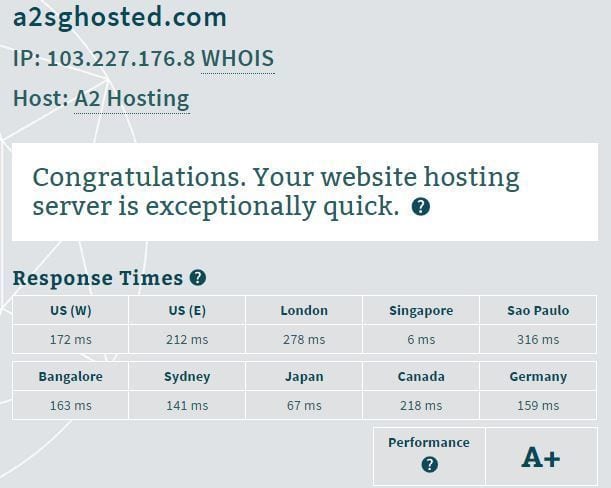 High Uptime
They have an uptime commitment of 99.99% meaning, all our websites are available all the time. Their company started in 2011, but since 2017, their uptime has increased by up to 99.99%!. Currently, they are maintaining 100% uptime, which is remarkably an excellent uptime.
A2 Hosting Shared Hosting Price and Plans
A2 Hosting shared hosting is a clear plan for new bloggers and small websites. The shared hosting solutions best for personal blogs or websites.
A2Hosting shared hosting has the cheapest hosting plans than 98% of websites out there. The shared hosting plan starts at $2.96 monthly. Renewal price is $7.99, but currently, because of a 63% discount, it is reduced to $2.96.
It has three hosting plans in total Lite, Swift, and Turbo. Lite offers the lowest hosting price at $2.96, while swift and turbo go from $3.70 to $7.03 per month. You will get unlimited websites to host in speedy and turbo plan while only one site in the lite plan.
The best seller and most popular hosting plan is the Swift plan. The fastest hosting plan is the A2 Hosting Turbo, which provides 20 times more resources.
A2Hosting WordPress Hosting Price and Plans
A2Hosting gives two types of WordPress hosting Shared Hosting and Managed WordPress Hosting. In WordPress Shared hosting, many users will share the same available resources. In Managed shared hosting, less number of users will share the available hosting resources.
WordPress Shared Hosting has cPanel access, but WordPress managed hosting gives you Plesk control panel access. You have to do most of the configuration in WordPress shared hosting, but Managed shared hosting comes with pre-configured and optimized hosting.
WordPress Managed hosting is costlier than shared hosting, but a recommended solution due to its optimized features.
| | | |
| --- | --- | --- |
| Features | Managed WordPress Hosting | Shared WordPress Hosting |
| Turbo Optimized | Yes | No |
| Backup | Yes | No |
| Site Staging | Yes | No |
| JetPack License | Yes | No |
| Control Panel | cPanel | Plesk |
A2Hosting offers three Shared WordPress hosting plans Lite, Swift, and Turbo. All plans are available with coupon code "HOST63", which gives you a chance to buy WordPress hosting in just $2.96.
You can also visit our customized A2Hosting Coupon Code for more promotional links.
Managed WordPress hosting starts at $9.78 per month. You should use the A2 Hosting coupon code "WP60" to get this offer. All hosting plans offer Turbo Optimized features, which give 20 times faster speed.
A2 Hosting VPS Hosting Price And Plans
Virtual Private Server (VPS) give you more power than shared hosting services. A2 Hosting offers Managed, Unmanaged, and Core VPS hosting. You can purchase Managed VPS, Unmanaged VPS, and Core VPS hosting according to your needs.
Difference Between Unmanaged VPS vs. Managed VPS Hosting
Unmanaged VPS gives you root access while Managed VPS gives you cPanel access. Unmanaged VPS is best for developers who want to build websites with all control. Managed VPS is best for webmasters who do not have web development skills.
Both Unmanaged VPS and Managed VPS give 99.99% uptime commitment. Unmanaged VPS hosting is cheaper than Managed VPS hosting because you, as an owner has to do most configuration in Unmanaged VPS hosting.
Along with Unmanaged and Managed VPS, A2 Hosting provides Core VPS. Core VPS has the combined features of Unmanaged and Managed VPS hosting.
A2Hosting Managed VPS Hosting Reviews
A2Hosting Managed VPS offers three plans Power, Prestige, and Pinnacle. The power plan starts at $25, which is already on a discount of 50%. The Prestige plan starts at $35, and the renewal price is $69.99. Pinnacles program is $50, which includes a discount of 50%.
A2 Hosting Unmanaged VPS Hosting
A2 Hosting Unmanaged VPS hosting has three plans Entry, Mid, and Elite. The entry plan starts at $5 per month, which is the cheapest VPS hosting.
Finally, the Elite plan starts at $15 per month. VPS Hosting does not have any discounts currently as they already have the lowest price.
A2 Hosting Reseller Hosting Plan and Price
A2 Hosting reseller plans allow you to start your own hosting business at affordable prices. A2 Hosting Reseller hosting gives 20x faster servers with 99.99% uptime guarantee. Moreover, they provide free site migration services. Above all, their risk-free, any time money back guaranty makes them a cost-effective reseller hosting platform.
The reseller hosting service has four plans. Bronze, Silver, Gold, and Platinum. All these plans have a 51% discount on first-time purchases.
The Bronze plan starts at $9.80 per month, which is undoubtedly the cheapest reseller hosting. The Silver plan starts at $13.72 per month.
The gold plan starts at $18.13, which is the best seller and popular Reseller Hosting plan of A2 Hosting.
The platinum plan is $30.38 after the discount of 51%, which provides more resources than any other hosting plans.
A2 Hosting Dedicated Hosting Reviews
If for some reason Shared hosting and VPS hosting was unable to fulfill your requirement, you can opt for A2Hosting dedicated hosting services.
In a Dedicated hosting solution, you can choose an entire physical server for your website. All resources of the server like CPU, RAM, and Storage are only available for your website.
Like VPS Hosting, Dedicated Hosting has both Managed and Unmanaged Dedicated Hosting plans.
Unmanaged Dedicated Hosting offers three plans sprint, exceeds, and Mach. It has different price ranges, though. The sprint plan is for $141.09, and exceed for $207.49. The Mach plans start at $290.49, which includes a discount of 17%.
Managed Dedicated Hosting offers three plans sprint, exceeds, and Mach. It has different price ranges, though. Sprint is for $141.09 and exceed is for $207.49. The Mach plans start at $290.49, which includes a discount of 17%.
Pros and Cons of A2 Hosting
While doing A2 Hosting reviews, we found some Pros and Cons that are worth sharing.
| | |
| --- | --- |
| Pros Of A2 Hosting | Cons Of A2 Hosting |
| Cheaper Hosting Plans | Do Not Offer Free Domain |
| Fastest server out there! | High Renewal Price |
| Guru support 24x7x365. | Limited features in entry-level plans |
| Optimized Software | |
| Easy To Use interface | |
| Any Time Money Back Guaranty | |
A2 Hosting User Reviews
A2Hosting user's reviews on various platforms support A2 Hosting popularity and credibility. A popular hosting review platform HostAdvice has 9.2 ratings out of 10. Meanwhile, another hosting platform called HostingAdvice has a rating of 4.9 out of 5.
A2 Hosting Reviews Reddit
Reddit is full of real user reviews on thousands of products and services. You will get A2 Hosting reviews from users who have used their services. We have read these reviews on Reddit about A2 Hosting and found positive as well as negative feedback.
You can read these A2 Hosting Reddit Reviews for more information.
A2 Hosting Alternatives
Along with A2Hosting, we have reviewed many hosting companies. Below are some of our recommended A2 Hosting alternatives. These A2 Hosting alternatives have the same quality services and prices.
Below are some of our web hosting reviews, which are detailed and unbiased.
In terms of performance, ChemiCloud and SiteGround are the best choices for A2Hosting. ChemiCloud has an extra benefit as it provides a free lifetime domain. Siteground hosting plans are a little bit costlier than A2 Hosting, but better in performance.
In the case of price, TMDHosting is a better A2Hosting alternative. TMDHosting and A2Hosting have the same shared hosting prices. However, TMDHosting offers a bonus of a free lifetime domain, which makes it a better alternative to A2Hosting.
We have done a detailed analysis of TMDHosting plans and services. You can read the TMDHosting review post for more information.
There are a few more alternatives to A2Hosting, which are worth mentioning.
BlueHost
HostGator
DreamHost
Do We Recommend A2 Hosting?
Yes, we do recommend A2 Hosting. A2 Hosting is one of the cheapest and fastest hosting solutions with quality services. We strongly recommend A2 Hosting for all types of websites or web developers.
Submit Your A2 Hosting Reviews
Along with our review, we also collect A2Hosting Reviews from users like you. User reviews help to update the post on the future for genuine reviews. Be honest, and submit your reviews on A2 Hosting. We will review it and approve it if we find it genuine.
There are no reviews yet. Be the first one to write one.
A2 Hosting Reviews for eCommerce Site
Ecommerce hosting is influential in the modern times of today. The A2 Hosting company provides great tools to create an eCommerce website in minutes.
A2 Hosting features like free SSL, 20x faster web server, advanced security, and eCommerce website builder and software make it a perfect solution for eCommerce hosting.
Moreover, it provides an eCommerce website builder like Magento, OpenCart, and WooCommerce, to create a website in just a few clicks.
You can choose any hosting solution for an eCommerce site, but VPS Hosting is the ideal hosting eCommerce.
A2Hosting offers much-inbuilt software to manage an eCommerce site quickly and efficiently. Click on the button below to know more about these software's.
A2Hosting Company also gives eCommerce software like PrestaShop and CS-Cart to create and manage shopping carts.
A2 Hosting Reviews For Forum Hosting
Have you ever wondered that what it would be like to simply have a site where you can host a group discussion with various clients, make a bulletin board for a to-do list, post topics and organize everything in one go?
Well, guess what the A2 Hosting company provides us with all of the following mentioned above in one single forum hosting software.