Some of the links are affiliate links and I earn commission from them. Moreover, as an Amazon Associate, I earn from qualifying purchases.
We have used Sitegroround for more than two years. While using it, we have done thorough testing to write this Siteground reviews for our readers.
Our Siteground reviews include analysis on hosting plans, performance, price, uptime, customer support, affiliate program, and user reviews on Trustpilot and host advice.
Siteground is the official recommendation of WordPress.org for WordPress sites. Hence, Siteground is becoming the first choice of the every webmaster for hosting small or large websites.
Siteground is one of the best web hosting companies, but some Siteground alternatives are worth trying. Chemicloud is an emerging web hosting company, and we strongly suggest it as a Siteground alternative.
You can also post on Siteground vs. Chemicloud and TMDHosting vs. SiteGround reviews. These hosting comparison post helps to decide, which one is a better web hosting company.
If you are not happy with them, then you can check out the list of better alternatives to SiteGround.
Siteground Reviews Services
Siteground offers a wide variety of website hosting services. Their hosting services are suitable for both beginners and experts. Along with Shared hosting, SiteGround offers WordPress Hosting, Cloud Hosting, and Woocommerce hosting.
Siteground Free Web Hosting Features
While buying SiteGround, you must use their free offers. Using free services can lower your initial hosting cost. Below are some free offers that you must choose from them.
| | |
| --- | --- |
| | Siteground Free Features |
| Free Domain Name | NO |
| Free SSL Certificate | YES |
| Free Web Site Transfer | YES (GrowBig and GoGeek) |
| Free Daily Backup and Restore | YES |
| Free Domain Transfer | NO |
| Free CMS Install | YES |
| Free Shopping Cart Install | YES |
Siteground Performance
The performance of any web hosting is essential, and must not be compromised. Siteground offers free website optimization features that boost your website speed.
Let's discuss various web optimization features that make Siteground performance better than its competitors.
Cloud Flare Free CDN
SSD Storage
Great Response Time
SuperCache Plugin
Multiple Server Location
HTTP/2 enabled servers
Cloudflare CDN is free and comes by default with Siteground hosting. Cloudflare CDN increase your website speed by delivering web pages from various data centers.
SSD storage disks are high-quality disks and are excellent for serving data with faster response time. Using SSD storage helps in increasing your web site speed.
The Response time of the Siteground web servers is fast. Siteground web server maintains an average response time of 136ms, which is quite remarkable.
Siteground server response time is exceptionally low in various locations. Below is the Siteground server response time from ten different locations.
| | |
| --- | --- |
| | Response Time |
| US (Washington DC) | 10ms |
| US (San Francisco) | 45 ms |
| London | 142 ms |
| Singapore | 192 ms |
| Sao Paulo | 158 ms |
| Banglore | 313 ms |
| Sydney | 181 ms |
| Japan | 124 ms |
| Canada | 61 ms |
| Germany | 142 ms |
SuperCacher Plugin is the inbuilt plugin of Siteground, which provides three levels of caching features. You can also install an external caching plugin to improve website speed.
The Startup plan has only one level of caching features, which provide static content cache. GoGeek and Grow Big offers three levels of caching features that are more than sufficient for any website.
Siteground allows choosing a server location nearer to your visitors, which boosts your website loading speed.
Siteground Uptime Reviews
Siteground server maintains an excellent uptime rate of 99.99%. Web hosting servers must be up all the time. Siteground does an exceptional job of keeping their servers online.
During our testing for ten months, Siteground uptime was tremendous and impressive.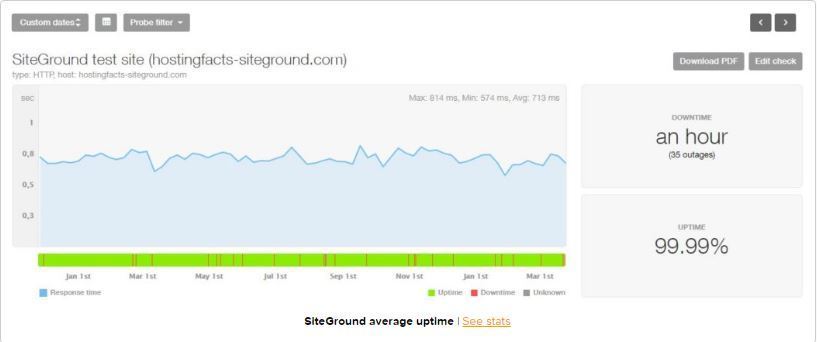 Both response time, and uptime decide the reliability of a web hosting company. Siteground web hosting company has performed well in both fields.
We monitored the Siteground uptime and Response time continuously for ten months in Pingdom. Below are the combined results that are outstanding.
Siteground Reviews Customer Support and Services
Siteground customer support has highly qualified support staff. Tech support staff are always ready to solve your problem. It does not matter how complex your issue is, Siteground support staff still provides a quick resolution.
You can quickly contact Sitegrund support staff via chat, email, and phone. The quickest way to reach Siteground tech support is live chat.
One downside is that you have to log in to contact Siteground Support. TMDHosting and Chemicloud offer customer support without registration.
Siteground Reviews Hostadvice
Hostadvice is a user review platform for web hosting companies. In Hostadvice, thousands of real users have given Siteground reviews and ratings.
Siteground has an excellent rating of 9.7, which is quite impressive.
Siteground Reviews Trustpilot
Trustpilot also has Siteground reviews that are full of positive comments. Thousands of Siteground users have given five ratings.
Siteground Reviews YouTube
Siteground reviews on youtube are excellent. Many YouTubers are suggesting Sitegrounnd to their clients for web hosting. Below is a YouTube video on Siteground reviews.
Siteground Hosting Plans
Siteground hosting plans offer a fast, reliable, and secure hosting platform. If you are a beginner, you can go with base plans of Siteground hosting plans. In case you are an expert and want to host a big website, higher plans are suitable.
Siteground Shared Hosting Plans
Sitegroud offers three types of shared hosting plans Startup, Grow Big and GoGeek.
Siteground Startup Plan is fit for personal websites, blogs, and small websites. If you want to host, one site that has a limited number of visitors, then go for it.
Startup plans can host one website with 10GB of SSD Storage. The startup plan is fit for a site that has around 10,000 visitors per month.
Siteground Grow Big plan is excellent for a medium size website. If your site has traffic around 25,000 visitors per month, then the GrowBig hosting plan is best for you.
Siteground Grow Big shared hosting plans offer 25 GB of SSD storage. You can host an unlimited number of websites under Grow big plans.
Siteground GoGeek plan is suitable for large websites. If your site has high web traffic around 100000, then the GoGeek hosting plan is best for you. GoGeek hosting plan offers 30GB of SSD Storage.
Siteground Shared Hosting Pricing
Siteground shared hosting provides two types of pricing, Special and Regular. Special price is the amount that you pay while purchasing web hosting for the first time. Regular price is the amount that you pay while renewing the services with Siteground.
The special price is cheaper as it offers discounts. Regular price is costly as it does not provide any reduction. Let us see a tabular comparison of pricing for more clarity.
| | | |
| --- | --- | --- |
| | Special Price/Year | Regular Price/Year |
| Startup | $47 | $143 |
| Grow Big | $71 | $234 |
| GoGeek | $95 | $419 |
Now Siteground pricing is cheap while purchasing it for the first time. The renewal price of Siteground web hosting is very is high.
If you want to buy web hosting from Siteground, then go for a longer duration. For example, three years of hosting would cost only $142, which is cheaper than the 2nd year of renewal price.
Now all Siteground shared hosting plans offer 30 days of money back guaranty. You can purchase any shared hosting plan, and later in case of any problem, you can ask for a full refund.
Siteground Reviews Cloud Hosting
Siteground cloud hosting offers dedicated and scalable resources to your websites. If your site has grown and shared hosting solutions are unable to handle the traffic, then you must consider cloud hosting.
Siteground cloud hosting solutions gives reliable and dedicated resources. Cloud hosting solutions are best for providing performance, security, and speed that assures the top performance of your site.
Benefits Of Siteground Cloud Hosting
Dedicated CPU and Memory
20x Faster Website Speed
Dedicated IP Address
Easily Scalable Resource
Private DNS Management
Full Root Access With SSH and FTP
Siteground Cloud Hosting Price Analysis
Now cloud hosting of Siteground is costlier than shared and WordPress hosting. Siteground has four cloud hosting plans, which you can use to host for small or large websites.
Now, if you are looking for some cheap cloud hosting solutions, then TMDHosting would be a perfect solution for you.
Now VPS hosting is also a reliable solution to host large websites. Read our dedicated post on A2 Hosting Review that has the cheapest VPS hosting plans.
Siteground Reviews WordPress Hosting
Siteground is Officially Recommended by WordPress.org to host WordPress websites. Hence, choosing WordPress Hosting from Siteground gives you an extra advantage.
WordPress hosting is pre-optimized only for hosting WordPress sites in terms of Speed, Security, Automatic Updates, and Daily Backups. WordPress managed hosting allows you to create a WordPress site in a few clicks.
Siteground WordPress hosting plans are pretty much similar to Shared hosting plans. Pricing of Shared hosting and WordPress hosting is the same.
Benefits Of Siteground WordPress Hosting
There are many benefits to choosing Siteground WordPress hosting. Let's discuss the benefits of choosing WordPress Hosting.
Official Recommendation From WordPress.org
Launching a WordPress Site is Fast.
Automatic WordPress Updates are available.
Free WordPress Site Migration
Pre Optimized WordPress Performance
Free SSL Certificate
Free Daily Backup
Siteground WooCommerce Hosting Review
Siteground offers Woocommerce hosting that helps you to create online stores.
Siteground offers you to launch a Woocoomerce store in just a few clicks. You can quickly set up an online store with the WooCommerce plugin and the professional Storefront theme.
Your online store will be ready in minutes without having an exceptional technical knowledge.
Siteground Woocommerce hosting prices are the same as shared and WordPress hosting.
Siteground Affiliate Program Review
Web hosting affiliate program pays a high commission to their affiliate marketers. The Siteground affiliate program is one of the highest paying affiliate programs.
You can earn a commission up to $125 per sale under the Siteground affiliate program.
Check out our post on 9+ recurring web hosting affiliate programs.
The exciting part is that you do not have to buy any services to join the Siteground Affiliate Program. You get 60 days of cookies duration tracking, which increases the chance of sales.
The minimum withdrawal commission is $100. You can withdraw your affiliate commission after 30 days of valid purchase.
Siteground Reviews Pros and Cons
Like every web hosting company Siteground also has pros and cons. Some advantages can cover up the cons. You need to consider these pros and cons while purchasing web hosting from Siteground.
Let us have a look at these pros and cons to see if Siteground has more pros then cons.
| Pros Of SiteGround Hosting | Cons Of Siteground Hosting |
| --- | --- |
| Recommended by WordPress.org. | Limited Storage |
| Reputable web hosting company. | Higher Renewal Price |
| Geat Server Response Time. | Need to Log in for Customer Support |
| Free Cloudflare CDN. | No Free Domain |
| Woocommerce Plugin | |
| Excellent Customer Services | |
| Multiple Server Location | |
| Inbuilt SuperCache Plugin | |
| 30 Days Money Back Guaranty | |
Siteground Coupon Code
Siteground offers a 70% discount on all web hosting plans. You can directly click on the below button to avail the offer.
Conclusion: Is Siteground Best?
Now the question comes if Siteground still the best. As per our testing and own experiences, it one of the best web hosting companies.
Siteground provides high uptime and robust performance. Due to its excellent WordPress hosting platform, it has got positive recommendations from wordpress.org. Customer support is unique, and web hosting prices are reasonable.
The final verdict is that we strongly recommend Siteground for web hosting.
Let us know what your thought on Siteground web hosting in the comment section.
0 out of 5 stars (based on 0 reviews)