Some of the links are affiliate links and I earn commission from them. Moreover, as an Amazon Associate, I earn from qualifying purchases.
You've probably heard the term 'VPN' and used it before. VPN has gained popularity for its anonymity, privacy and high level of security. Hence, a huge number of internet users uses it.
Being an affiliate marketer, promoting recurring VPN affiliate programs gives an opportunity to earn huge commission.
It's hard to find a VPN provider that provides the best services and recurring affiliate programs. After a tedious search, I have finalized the top recurring VPN affiliate programs for my reader.
Along with recurring affiliate commission, all of these VPN providers offers generous one-time commission as well.
Before promoting any affiliate programs its best to understand the service. Hence, let me first explain what is VPN and how it works?
Check out for best recurring hosting affiliate programs.
What Is VPN and How It Works?
A VPN gives online anonymity and privacy by generating a private network from a public internet connection.
It creates an encrypted and secure connection for more improved privacy than what you would get from a secured Wi-Fi hotspot. Using a VPN is a good idea if you are a frequent user of public Wi-Fi.
Along with Encrypting your connections, VPN also protects your information from hackers and improves your overall internet defense.
Over 90% of people living in America and worldwide have raised concerns over how ISPs use their information. If you feel insecure while browsing the Internet, using a VPN would be the best option for you.
VPNs also help in protecting from hackers and allow you to browse the web anonymously. You can also browse websites that are blocked in your countries.
Now you know the importance of VPN, you can think of the demand that VPN has in today's world. Hence, joining these affiliate programs can give you a better opportunity to get huge commissions.
Why Promote Recurring VPN Affiliate Programs?
Recurring VPN affiliate programs give you additional commissions whenever a user renews their services. If you prefer a decent amount of users, then in a long term it gives a huge wealth.
Over the past decade's usage of VPN has increased at an exponential rate. Most internet users do not just use VPN for one time, rather they keep using it which increases the renewal rate.
As the majority of people renews VPN services, promoting recurring VPN affiliate programs gives huge opportunity to get lifetime commissions.
All the VPN provider listed in this post offers generous signup bonus. They are so much confident on user retention, that they even offer recurring affiliate commissions.
Top Recurring VPN Affiliate Programs
Based on popularity, reliability and commission structure, I've compiled a list of best Recurring VPN affiliate programs that you can use for affiliate marketing.
1. Nord VPN
Nord VPN One Time Affiliate Commission: 40-100%
Recurring Affiliate Commission: 30%
Cookie: 30 days
Try NordVPN 2 Year Plan + 3 Months Free
Join NordVPN Affiliate Program
NordVPN recurring affiliate program is one of the highest paying affiliate programs. They convert all traffic types into revenue from various geographical location.
They offer a generous commission of 40% to 100% for every new sign up. Additionally, Nord VPN recurring affiliate program gives 40% of life commissions.
An affiliate marketer can join their affiliate program with Commission Junction or Hasoffers. However, I suggest to join their proprietary affiliate program to get dedicate affiliate managgers support.
They also provide efficient promo tools with attractive and pre built landing pages, that help to promote and convert traffics to leads easily.
NordVPN is over 10 years old, and they have a wealth of experience that comes with age. They are among the leading VPN providers with their high-grade web protection. Using NordVPN, you can access the Internet without fear of being monitored or denied access by way of restrictions.
Their operating office is situated in Panama, and this country does not have mandatory data retention laws. This makes users trust that their privacy is always protected and their activities online are never logged.
2. PureVPN
Pure VPN One Time Affiliate Commission: 50%
Recurring Affiliate Commission: 35%
Cookie: 30 days
Try PureVPN For 7 Days
Join PureVPN Affiliate Program
PureVPN affiliate program gives you access to their advanced affiliate control panel, where easily get affiliate links along with attractive banner ads. You can also customize your landing page for better conversion.
Along with one-time affiliate commission, they offer a recurring commission as well. To double your earnings they have two-tier affiliate program will allow you to increase earnings by referring more affiliates and receiving commissions from their earnings as well.
PureVPN affiliate program has a user-friendly dashboard to track your sales. To get affiliate commissions, they offer multiple payment options, along with extra bonuses such as a brand new iPhone.
Now, before we move on, let's do a PureVPN review. PureVPN is a reliable and trustworthy VPN provider that gives its users total online anonymity. They have been a trusted source for more than 10 years. You can use PureVPN on Windows, Android, Mac, and iOS devices.
So far, they have over 750 servers in over 140 countries worldwide for better connectivity.
PureVPN offers;
Zero logging policy.
5 Simultaneous logins.
Robust data protection.
Live chat support
A 7-day return policy and many more.
3. TorGuard
TorGuard One Time Affiliate Commission: $50
Recurring VPN Affiliate Commission: 30%
Cookie: 60 days
Try TorGuard 50% off Use Coupon Code: TechieBlogging
Join Torguard Affiliate Program and get $5 of joining Bonus
Once you join TorGuard VPN Recurring Affiliate programs, you get access to the user-friendly dashboard. You can use the dashboard to track your traffic and get affiliate links. You also get a $5 joining bonus.
Under TorGuard affiliate program you get access to attractive banner to display in your websites.
TorGuard Affiliate program give $50 of commissions for every new sign up and 30% of life time recurring commissions.
You have various method to get payment that includes PayPal and Bitcoin with a minimum payout of $50.
TorGuard also provides you with shareable links that can be sent to friends or customers from their social media pages, blogs and websites.

Along with Lifetime recurring commissions, Torguard provides 24/7 support structure for users and affiliate partners.
Trusted VPN service
Now a quick TorGuard VPN review.
TorGuard is a popular VPN brand in the Internet Security industry for many reasons. First, they have a 24-hour support structure every day of the week.
Also, their VPN services are anonymous with incredibly high speed and no logs. They are a trusted VPN service when it comes to protecting their customer's identities on the Internet.
It is also effortless to use and understand. They offer Secure DNS servers, strong VPN encryption, a dedicated IP address, and over 80 payment options and much more.
4. FastestVPN
FastestVPN One Time Affiliate Commission: 100%
Recurring VPN Affiliate Commission: 35%
Cookie: 45 days
Try FastestVPN At $1.1 Per Month
Join FastestVPN Affiliate Program
FastestVPN truly justifies its name by providing the fastest VPN in over 140 plus countries. FastestVPN recurring affiliate program offers 35% of lifetime commissions. If a users signup for a monthly plan then you will get 100% of the commission.
FastestVPN uses post affiliate pro to manage its affiliate program. You can also join their affiliate program through the ShareASale affiliate network.
Why Should You Promote Fastest VPN
Supports Wide Variety Of APPs and Browser.
10 parallel connection.
15 days of money back guaranty that users love.
Unlimited Server Switching
Unlimited Bandwidth.
Access Geo-Restricted Content Such as NetFlix, Prime Video.
5. VPNCity
VPNCity One Time Affiliate Commission: 45%
Recurring VPN Affiliate Commission: 35%
Cookie: 45 days
Try VPNCity For Free
Join VPNCity Affiliate Program
VPNCity recurring affiliate programs do not have any special requirements, which makes it available for beginners. VPNCity is one of the rare affiliate programs that does not set any minimum payout threshold.
Moreover, they offer 45% on time as well as recurring affiliate commissions. You can withdraw payout via multiple resources such as PayPal, Stripe, and Alipay.
VPNCity recurring affiliate program helps you with a dedicated affiliate manager. Additionally, its affiliate dashboard is user friendly for tracking affiliate sales. You can get a customized landing page with affiliate links for better conversion.
Why Should You Promote VPNCity Affiliate Program?
Connect up to 12 devices.
They support Connect up to 12 devices.
They do not have any logging policy which makes them trustworthy.
30 Days of Money-Back guaranty which is risk free deal.
Unblock any restricted content.
It supports multiple app for multiple devices.
6. SaferVPN
SaferVPN One Time Affiliate Commission: 45%
Recurring VPN Affiliate Commission: 35%
Cookie: 45 days
Try SaferVPN For Free
Join SaferVPN Affiliate Program
Unlike most VPN recurring affiliate programs, SaferVPN offers two ways of joining their affiliate program. First, if you are an active user of SaferVPN, then you can refer your friends, and for each friend you refer to them, they will give you both a free month of SaferVPN.
On the other hand, you can join their traditional affiliate program to get lifetime recurring commission of 30%. In addition to recurring affiliate commissions, they offer $14 to $45 rewards for every new sign up.
Before applying for their affiliate programs, you should have a website. Tough you can join without a website but they prefer affiliate marketr who owns a website or blog.
Check out the steps to create a blog with easy steps.
Why Should You Promote SaferVPN?
It can support 5 parallel connection.
Fastest browsing speed with unlimited bandwidth.
30 days of money back guaranty.
Advanced Encryption with 256-bit encryption.
Automatic WiFi security.
It supports multiple VPN protocols.
7. O-VPN
OVPN One Time Affiliate Commission: 30%
Recurring VPN Affiliate Commission: 30%
Cookie: 60 days
Try OVPN For Risk-Free 10 Days
Join the OVPN Affiliate Program
OVPN offer their affiliate partners to work directly with their product developers to create content that drives sales. Along with marketing materials, they offer a free account to their affiliate marketer for VPN testing.
In addition to their proprietary affiliate program, they make use of affiliate networks like Flexoffers and Commission Junction to get their affiliate programs going.
Part of their advantages also involves providing affiliate partners with solutions to payouts and creative reporting tools.
Why you should promote OVPN?
High first-time commission.
Generous recurring sales commission.
Customized content to improve sales.
High-security VPN.
Only VPN providers with their own servers
Just to ensure they don't take chances with your data, OVPN has its own hardware and servers that are safely stored in their isolated rack cabinets.
They also have insurance to carry out all their activities to prevent the third party from gaining access to their client's information.
OVPN offers one of the best web security and privacy systems in the world, their products are easy to use, and prices are very competitive.
As a VPN service, it utilizes very strong encryptions to protect its users' information online.
8. Hide My Ass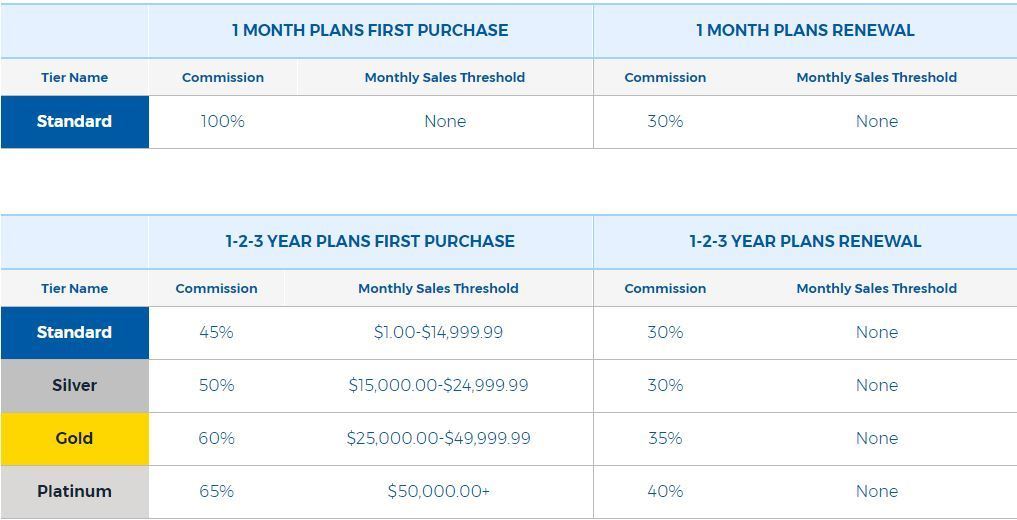 HideMyAss One Time Affiliate Commission: 45% to 65%
Recurring VPN Affiliate Commission: 30% to 40%
Cookie: 45 days
Try HideMyAss VPN Proxy
Join HideMyAss Affiliate Program
Hide My Ass has most flexible affiliate commission structure for both one time and recurring commissions. They offer multiple tiers of commissions structures. If user purchase monthly plans then you get 100% affiliate commssions and 30% of recurring commssions.
However, in case of a yearly subscription, you can earn sign up commissions from 45% to 65%. Additionally, for every renewal, you get recurring commissions from 30% to 40%.
Hide My Ass allows affiliate partners to access their advance control panel with Avangate. They also use this to track and monitor their orders. You can easily refer the program to visitors and friends. The landing page uses a GEO IP technology to redirect users to pages transcribed in their languages. They also offer an array of already made links and n-banners to their affiliates.
Why Should You Promote Hide My Ass VPN Service?
Hide My Ass is a subsidiary of one of the world's largest Internet security companies, Avast. They have over 11 years of experience in VPN provider services. The app is easy to use and understand, and they offer other amazing features like;
Unlimited uploads and downloads.
Fast and reliable access.
Up to 5 simultaneous connection.
High commission rate.
Easy to use.
9. Hide.me
Hideme One Time Affiliate Commission: $32
Recurring VPN Affiliate Commission: 25%
Cookie: 45 days
Try HideMe VPN For Free
Join HideMe Affiliate Program
This amazing VPN platform comes from a background of trust and credibility, two factors that have earned them sufficient trust over the years. Today, Hide.me is one of the world's most popular and respected VPN providers.
With over 4.5 million users worldwide, many consider them the fastest VPN provider in the world. You are assured of complete anonymity and privacy when you surf the web using this network.
Hide.me offers a 24/7 support structure and a completely customizable conversion banner, landing page, and an open PPC policy. As a partner, you can request customized landing pages and banners. More so, you can join the program with Commission Junction.
Why you should promote Hide.me
Optimizable landing pages and banners.
Open PPC policy.
High-speed VPN services.
Customizable marketing tools.
Affiliates can advertise with PPC and utilize the optimizable conversion banners and landing pages.
Conclusion
There are so many VPN recurring affiliate programs and it easy to get confused. Many programs not even pay for your efforts. Hence, I have only listed the most trusted recurring VPN affiliate programs in this post.
You can join any of the affiliate programs without a second thought and promote them. I strongly believe you should try their trial period and then promote them.